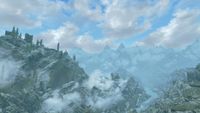 The Reach is a hold in western Skyrim, with Markarth as its capital. It is initially affiliated with the Imperial Legion, but can be captured by the Stormcloaks after completing Compelling Tribute and The Battle for Fort Sungard. It can also change sides as part of negotiations during Season Unending.
The terrain is very mountainous, containing the Druadach Mountains. The far eastern edge of the hold from Broken Tower Redoubt in the north to Fort Sungard in the south is more hilly. The mighty Karth River and several smaller tributaries originate here.
The Reach is home to the native Forsworn, who will attack any outsiders on sight.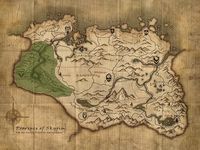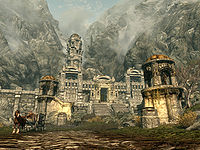 Flora and Fauna
Edit
All locations in the Reach with individual map markers are listed. There are a few places without map markers listed for their significance.
†
Only technically located in the Reach.
The Reach Quests
Edit
Quests that are started in or related to the Reach (except for radiant quests begun in other holds) are listed here:
In addition, many miscellaneous quests are located in the Reach. They are listed here.