Hanging Moss
00

057f91

1
0.25
Alchemy Effects
1st
 Damage Magicka
2nd
 Fortify Health
3rd
 Damage Magicka Regen
4th
 Fortify One-handed
Sources
# Samples
10
Plant
Hanging Moss
# Plants
1522
Merchant Avail.
Uncommon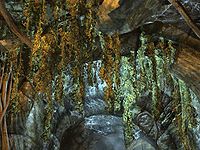 Hanging Moss is harvested from plants found growing off rocky ledges, trees, or dungeon ceilings. It is most common in the Reach, but can be found in most of Skyrim's holds.
Combinations
Edit
3 Effects
Edit
2 Effects
Edit
| Desired Effect | Combine with: |
| --- | --- |
|  Damage Magicka | Butterfly Wing, Chaurus Eggs, Daedra Heart, Eye of Sabre Cat, Hagraven Feathers, Luna Moth Wing, Namira's Rot, Nordic Barnacle, Trama RootDB |
|  Fortify Health | Boar TuskDB (5.9×), Giant's Toe (5.9×), Glowing Mushroom, Wheat, Yellow Mountain FlowerDG |
|  Damage Magicka Regen | Ancestor Moth WingDG, Blue Butterfly Wing, Burnt Spriggan WoodDB, Chaurus Hunter AntennaeDG, Chicken's Egg, Hawk's EggHF, Nightshade, Spider Egg, Spriggan Sap |
|  Fortify One-handed | Canis Root, Hawk Feathers, Rock Warbler Egg, Small Pearl |
Ingredients
Edit
11 guaranteed samples can be found in 8 different locations:
It is categorized as an uncommon ingredient, meaning that all apothecary merchants have a 15% chance of carrying 1-5 samples. In addition, it may be randomly found in uncommon- and rare-type apothecary's satchels.
1522 hanging moss plants can be found in 115 different locations. Locations with the greatest numbers are:
Last modified on 3 June 2018, at 17:52