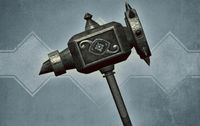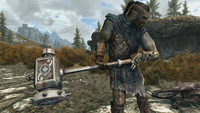 Stendarr's Hammer is a Creation that adds the eponymous Stendarr's Hammer weapon. It was released on October 4, 2017 for 200 CC Credits.
Official Summary
Edit
Rumored to have been wielded by Stendarr, the God of Righteous Might and Merciful Forbearance himself, this two-handed hammer will deliver devastation to any foe. (Creation is obtained through quest.)
This Creation adds the quest If I had a Hammer, which is automatically added to your journal upon installation. The quest directs you to the Dwemer Museum in Markarth to steal Stendarr's Hammer. Note that without a key and Calcelmo's permission, entry to the Museum is illegal and the guards inside will attempt to arrest you.
The quest ends when you pick up Stendarr's Hammer, a very heavy warhammer with a damage health enchantment which drains your stamina with each hit.