The Imperial City (also known as Cyrodiil City or simply Cyrodiil) is the capital of Cyrodiil and the whole of the Empire. The circular city is located on City Isle, an island in Lake Rumare in the Nibenay Valley at the center of the Imperial province. At the middle is the Green Emperor Way district, containing the Imperial Palace and its White-Gold Tower. Surrounding it are six districts, starting in the northeast and going clockwise:
Also on the island is the Arcane University, the Imperial Prison and the Waterfront, which is the harbor of the Imperial City. A single bridge connects the island to the mainland near Weye. Roads lead from the capital in all directions.
The Sewer System
Edit
Underneath the Imperial City is a sewer system as large as the city itself. The sewers can be accessed from most districts of the city; there are also a few entrances outside of the city. The sewer system is a fairly complex maze. The east and west sections of the sewer do not connect to each other, but within those sections there are many interconnections.
Occasionally, when a person from the Imperial City tries to go a different district than they are already in, their AI will decide that going through the sewers is quicker than walking the streets; so they'll duck into the nearest house with a sewer entrance in the basement and travel underground, possibly putting themselves in danger from rats and Goblins.
The Eastern Sewers
Edit
The sewers that connect together on the east half of the city are (from north to south):
The Western Sewers
Edit
The sewers that connect together on the west half of the city are (from north to south):
Other Sewers
Edit
There is an additional unconnected piece of the sewer:
The Watch Towers
Edit
The watch towers are the tall structures located in six "corners" of the city. They serve as a bunker for the Imperial Guards, many of which can be found sleeping at night on the towers' upper floors. This, of course, includes many essential and temporarily-essential guards. Such guards include Hieronymus Lex and Adamus Phillida, who become non-essential at the end of the Thieves Guild quest Taking Care of Lex and upon acceptance of the Dark Brotherhood quest Permanent Retirement, respectively.
Locations
Edit
There is a watch tower at each of six "corners" of the Imperial City. Their names make their locations rather self-explanatory.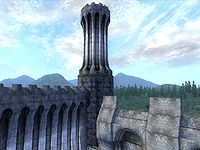 | Name | Console Location Code | Connected Districts |
| --- | --- | --- |
| Northwest Watch Tower | ICImperialLegionWatchTowerNW | Talos Plaza District, Elven Gardens District |
| North Watch Tower | ICImperialLegionWatchTowerN | Elven Gardens District, Market District |
| Northeast Watch Tower | ICImperialLegionWatchTowerNE | Market District, Arena District |
| Southeast Watch Tower | ICImperialLegionWatchTowerSE | Arena District, Imperial Arboretum |
| South Watch Tower | ICImperialLegionWatchTowerS | Imperial Arboretum, Temple District |
| Southwest Watch Tower | ICImperialLegionWatchTowerSW | Temple District, Talos Plaza District |
Quests Starting Here
Edit
Mages Guild Quests
Edit
Thieves Guild Quests
Edit
It's possible to climb over the walls and out of the city. See this for details.