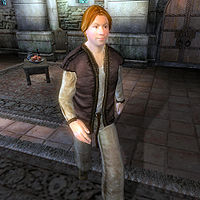 Beran Sintav, a Breton commoner, is one of four nephews of Iniel Sintav living in the Elven Gardens District of the Imperial City. Beran and his brother, Vontan, live with their other brother Kastus Sintav, who is the righteous owner of the house. The fourth brother, Cyronin, has had a dispute with Helvo Atius, who lives in the Imperial City's Talos Plaza District, that has caused bad blood between the Sintav and Atius clans.
The three brothers all own a single bed in the upstairs area of Kastus' house. Beran owns the bed next to the entrance and sleeps there every night between midnight and 6am. He starts the day with four hours on the ground floor until 10am, when he ventures outside and spends the rest of the morning and most of the afternoon strolling around the Elven Gardens District. At 5pm he heads back to the house for an hour of relaxation before he picks up some food and eats a two-hour dinner. The rest of the evening, until his bedtime, is spent on the ground floor, occasionally chatting with his brothers. On Loredas, he never even leaves the house and stays inside with Vontan and Kastav all day long, eating dinner at 6pm as usual. On Sundas, at 9am, Beran and the other seven members of the Sintav clan pays uncle Iniel a visit, staying there all day until 9 pm, interrupted only at 11am when the entire family follows Inian to the King and Queen Tavern for his two-hour lunch. If Iniel is dead, Beran will simply stay at home.
Beran wears normal middle class apparel, a pair of light brown linens, with a brown shirt and pigskin shoes. He carries a small amount of gold and the key to his brothers house.
The first time you meet him and 20% of the time thereafter, he will greet you with, "I'm Beran. Kastus, Vontan, and me, we take care of gardens and trees and grass. Hard work, but it pays." If you ask him about the Imperial City, he will tell you, "If we work hard, Uncle Iniel says he'll set us up in business together, maybe a little fruit orchard, or maybe tomatoes."
Beran was supposed to stroll around the Talos Plaza District on Tirdas and Turdas. However, his package to wander around the Elven Gardens District is set to activate on all the normal days of the week and at the exact same time. Since the latter is before on the list, this causes him to simply ignore the former and wander around the Elven Gardens instead.