The Palace Sewers are a small sewer system under the Imperial City containing vampires (quest-specific). It contains only one zone, The Palace Sewers.
Related Quests
Edit
The Palace Sewers is inaccessible until the related quest.
Zone 1: The Palace SewersEdit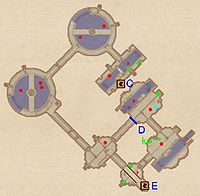 You initially enter The Palace Sewers from Beneath the Bloodworks through door E. If you want to reach your destination as quickly as possible, just cross the bridge in the first room. If you want to explore the entire sewer, drop down from the bridge, fight the patrolling Vampire and loot the chest and coffin. The next room contains a table (b) holding an additional copy of the Imperial Sewer Key and two ultra-rare bottles of Human Blood. Go through the tunnel, activate the turn wheel (cyan dot on map) which will elevate gate D; proceed through the tunnel and head north to a pool with three Slaughterfish. Avoid the water and follow the only available path through a similar room until you reach door C, the entrance to The Old Way.
Occupants:
Treasure:
Doors and Gates:
The door at C leads to the adjacent sewer system, The Old Way.
The door at E leads to the adjacent sewer system, Beneath the Bloodworks.
1 Gate at D opened by the Turn Wheel (cyan dot) northeast of the gate. This gate cannot be opened from the other (southwest) side of the gate.