This article is about enemies who are werewolves. For the condition lycanthropy, in particular the effects it has on you, see Werewolf.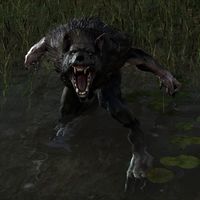 Werewolves are monstrous, wolf-like creatures. They are taller and broader than man and mer, and are capable of moving on two limbs or sprinting on all four. They have a weakness to poisons, but are incredibly strong, and very fast. You can become a werewolf if infected. This unlocks the ability to transform, as well as an associated Lycanthropy skill line.
For more information, see the lore page.
Skills and Abilities
Edit
These are skills that all werewolves have.
Savage Leap

The werewolf leaps and the air and delivers a crushing blow. Can be blocked.

Swipe

Basic physical attack. The werewolf swipes at you with its claws.

Slashing Fury

The werewolf slashes its claws several times.

Claw Slash

Physical attack. The werewolf slashes at you with its claws.
Unique Werewolves
Edit
Generic Werewolves
Edit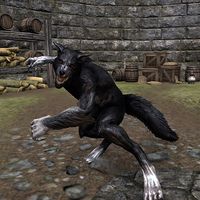 This Werewolf can be found inside Mist Morrow Tower.
---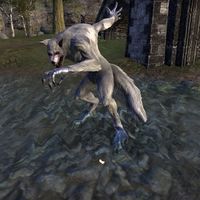 This Werewolf is found in the river near Daggerfall Cathedral's graveyard. It stalks the alleys to hunt, killing, but not eating, anyone it finds. It just so happens that the poor of Daggerfall tend to live in the alleys, so they've been its main source of prey. You will need to kill it during Back-Alley Murders.
---
This article could benefit from an image.
See Help:Images for information on how to upload images. Please remove this template from the page when finished.
Werewolves can be summoned by Rageclaw at his Den
---
This captured Werewolf can be encountered during the related quest, where he'll be used in a blood ritual that allows you and Gloria Fausta to see a vision of Angof the Gravesinger and Faolchu the Reborn.
Related Quests
Edit
Quest-Related Events
Edit
After you witness the vision, he'll mock you.
Werewolf: "Fools! Your Duke has been blessed with Hircine's Curse! He will destroy everything he loves."
Werewolf: "You have failed! Angof has sealed your fate."