Related Quests
Edit
The Gray Host: Create a defense against the Harrowstorms and learn the Gray Host's plans.
Quest-Related Events
Edit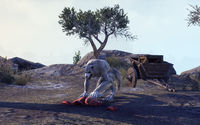 While searching the camp for refined netherroot with Lyris Titanborn, eventually he will be alerted to your presence.
Sable-Eye: "Stop them, my pack mates! I'll get this brew to the witches!"
Lyris Titanborn: "Sable-Eye has the brew! Let's find him before he gets away!"
You can chasing him up to the cliff face overlooking the camp where he'll be guarding the brew.
Sable-Eye: "You know what the Gray Host does with spies? We eat them!"
Once he is dead, you can take the refined brew.