This page is currently being rewritten as part of the Online Quest Project.
The page is being both written and checked. All users are welcome to make changes to the page. If you make a change that is relevant to the project, please update this template accordingly, and make sure you have observed the project guidelines.

| | |
| --- | --- |
| | Conquer the March of Sacrifices and emerge victorious in the Great Hunt. |
The Ashlander Hanu has recruited me to join her hunting team within Hircine's Hunting Grounds. We must hunt down an indrik and present its heart to Hircine in order for Hanu to win a boon from the Daedric Prince and save her father.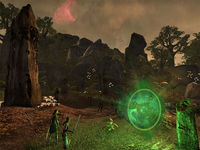 Quick Walkthrough
Edit
Detailed Walkthrough
Edit
Quest Stages
Edit
The Great Hunt
Finishes Quest
Journal Entry
Hircine's Great Hunt has begun. I should explore Bloodscent Pass and attempt to find the indrik.

Objective: Explore Bloodscent Pass

A group of murderous Wyrd Sisters block my path. I'll need to defeat them if I hope to continue the Great Hunt.

Objective: Kill Wyrd Sisters

With the Wyrd Sisters defeated, I can continue my hunt for the indrik. I should move further in Bloodscent Pass.

Objective: Explore Bloodscent Pass

I've become trapped in a hole with a powerful spriggan. I must defeat it if I'm to continue the Great Hunt.

Objective: Kill Aghaedh of the Solstice

With the spriggan defeated, I can continue the Great Hunt with Hanu. I should explore the Wispwood and see if I can pick up the indrik's trail.

Objective: Explore the Wispwood

The indrik Tarcyr has killed a group of Nords and now uses their corpse to protect itself. I must defeat these thralls if I'm to hunt down the indrik.

Objective: Kill Tarcyr's Thralls

Now that I've defeated Tarcyr's thralls, it's time to hunt down the creature itself. I should follow the wisp that Hanu's father gave us in order to find the indrik.

Objective: Follow the Wisp

I've finally found the indrik and am ready to conclude the Great Hunt. I must defeat it if I'm to collect its heart.

Objective: Kill Tarcyr

I have defeated Tarcyr and Hanu has collected the creature's heart. I should accompany her to Hircine.

Objective: Bring the Heart to Hircine

Balorgh has killed Hanu and stolen the indrik heart in order to win Hircine's boon. I should hunt him down and prevent this from happening.

Objective: Hunt Down Balorgh

Hircine has refused to give Balorgh a boon, since he did not kill the indrik. Balorgh has sworn to kill the ones who did hunt the indrik, my companions and I. I should defend myself.

Objective: Kill Balorgh

I should speak to Hanu in March of Sacrifices.

Objective: Talk to Hanu