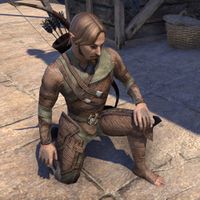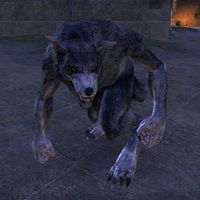 Gaenennor is a Bosmer commoner who can be found in Abah's Landing. You'll find him in the street in front of Jamadin's House. He'll either be sitting against some crates, or with Lanelan and Fanuwende and their dice game, though he never joins the actual game and just sits there with his head bowed.
He cannot be spoken to. If he witnesses a crime, he will turn into a werewolf and become hostile towards the person who committed it.
If Gaenennor turns into a werewolf and eventually stops being hostile, he will not revert back to his Bosmer form. His routine will return to normal, and can be seen playing the dice game as a werewolf. He can also be pickpocketed in this form. ?