This article is about the Faolchu encountered at Glenumbra Moors. For the undead version in Camlorn, see Faolchu the Reborn.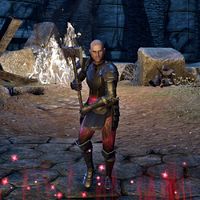 Faolchu the Changeling was a werewolf general of the Alessian Order who died at Glenumbra Moors. You will fight him in a vision of the past to learn his weakness.
Related Quests
Edit
"Faolchú" means "wolfhound" in Irish.