| | |
| --- | --- |
| | Raven Rock |
Raven Rock, in southwestern Solstheim
(view on map)
DLC2RavenRock01, DLC2RavenRock02, DLC2RavenRock03, DLC2RavenRock04, DLC2RavenRock05, DLC2RavenRock06, DLC2RavenRock07, DLC2RavenRock08, DLC2RavenRock09
Government
Inns
Temples
Houses
Other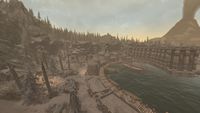 Raven Rock is a city on the southwest coast of Solstheim. It is the first place discovered in the Dragonborn expansion. Once an East Empire Company mining outpost, it is now a House Redoran colony. A far cry from the prosperous mining town of the past, Raven Rock has become a mostly forgotten settlement, its ebony mine depleted.
The city consists of a single thoroughfare running from the entrance through the Bulwark in the east to the Earth Stone in the west, following the line of the small adjacent bay. The jail and the Redoran guards' garrison are built into the Bulwark, which is the city's main defense against the ash from the Red Mountain.
A curved wooden boardwalk runs along the bay, with a short pier near the center and a longer pier to the east. The Northern Maiden, which plies its trade between Solstheim and the city of Windhelm in Skyrim, is docked at the long pier, and three rowboats are docked elsewhere in the bay. The various shops and services of Raven Rock can be found in the central marketplace around the city's well north of the bay, while the Temple is near the Bulwark to the east. There are many freely available crafting stations outside in the city, including three wood chopping blocks, two tanning racks, two smelters, a forge, a workbench, a grindstone, and an alchemy lab. These stations are outside Alor House, Glover Mallory's House, Ienth Farm, and Raven Rock Mine, as well as on the long pier.
It is possible to acquire a home here, Severin Manor, after completing the quest Served Cold.
For historical information on Raven Rock and House Redoran, see the respective lore articles on Raven Rock and House Redoran.
* These people no longer reside at Severin Manor after completion of the quest Served Cold.
** These people only appear after completion of the quest The Final Descent.
Achievements
Edit
One achievement is related to Raven Rock:
Raven Rock Owner (20 points/Bronze) — Own a house in Raven Rock
Related Quests
Edit
Quests Starting Here
Edit
Other Quests
Edit