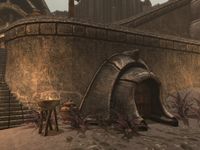 The Ulen Ancestral Tomb is a one-room structure in Raven Rock which serves as an entrance for the Temple Ancestral Tomb.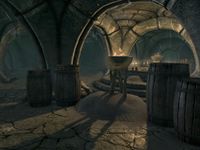 The main entrance is opposite Caerellius House, to the right of the staircase leading up to the Temple.
It is where members from the Ulen family of House Hlaalu are interred if they die on Solstheim. The last member of the family that was interred here was Vilur Ulen who in 4E 95, was the lead conspirator in a House Hlaalu plot to assassinate the Redoran councilor of Raven Rock, Councilor Morvayn. The councilor ordered Vilur's execution for his part in the planned coup, which was intended to wrest control of Raven Rock from House Redoran.
Related Quests
Edit
Ulen Ancestral Tomb
Edit
There are two entrances to this tomb, one unlocked, directly from outside and the other via the Temple Ancestral Tomb inside the Temple. This entrance is locked and requires the use of the Raven Rock Tomb key which is received from Adril Arano during the quest.
Besides two benches the only other items of interest inside the tomb are seven urns, five of which contain three ash yams each and the other two contain ingredients. While outside, on either side of the external entrance there is an urn containing food, along with several scathecraw plants.