This article is being developed as part of the Skyrim Houses Redesign Project. If you see this tag it means the article can still be improved. Please see the project page for guidelines.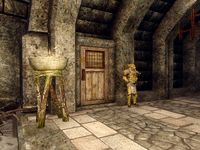 The Bulwark Jail is a jail built to house anyone who commits a crime in Raven Rock.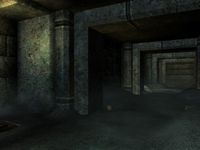 Like the cities garrison, the jail has been built into The Bulwark itself.
The Bulwark Jail
Edit
Redoran Guards are posted at the entrance to the city, beside both the entrance to the garrison and jail.
The entrance to the jail is opposite the entrance to the Bulwark, where the city garrisons the Redoran Guard. Immediately on the left, against the north wall is the prisoners belongings chest, which is on a grate showing an area beneath. Beyond an internal wall is a single inattentive Redoran guard acting as jailor, sat at a table also against the north wall having a meal of a cooked beef steak, a loaf of bread and a goat cheese wedge, with a bottle of shein, a bottle of sujamma and a bottle of Nord mead, with three food barrels to the right of the table. The room is bifurcated; the rear half of it is a jail cell behind an expert-locked gate.
Against the north wall, inside the cell is a set of shelves holding a bottle of matze, a bottle of sujamma, an ash yam, several pieces of cheese and both Part I and Part II of Bone. There is a single bed in the southeastern corner with a round wooden table at the head of the bed with a bottle of alto wine, two ash yams, a loaf of bread and a charred skeever meat on the table. Opposite this, against the north wall is a large unlit fireplace filled with five pieces of firewood covering a novice-locked grate to an escape tunnel. The tunnel provides access to the grate beneath the prisoner belongings chest along with another grate below it which leads you to Coldcinder Cave.