Add-on:
Dragonborn
Released
4 December 2012 (Xbox 360)
5 February 2013 (PC)
12 February 2013 (PS3, US)
13 February 2013 (PS3, English-speaking EU)
Availability
PC
Available from Steam
($19.99/€19.99/£13.99/¥2499/$24.23 AUD/429 RUB)
Xbox 360
Available from Xbox Marketplace
($19.99 US & Canada, was 1600 MS Points)
PS3
Available from the Playstation Store
($20/$25 AUD/¥2400)
Other
Included with Special Edition, Switch Edition, and Skyrim VR
Requirements
Patch
1.8.151.0.7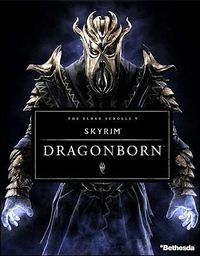 Dragonborn is the third major official add-on for Skyrim. The existence of this expansion was first alluded to by patch files found in the 1.8 Patch, and it was confirmed by Bethesda on 5 November 2012 with an official announcement trailer. Dragonborn takes place on the island of Solstheim, first visited many moons ago during Bloodmoon. The add-on's plot tasks you with uncovering the identity of the person seemingly controlling the entire population of the island, and stopping them.
With this official add-on for The Elder Scrolls V: Skyrim, journey off the coast of Morrowind, to the island of Solstheim. Encounter new towns, dungeons, and quests, as you traverse the ash wastes and glacial valleys of this new land. Become more powerful with new shouts that bend the will of your enemies and even tame dragons. Your fate, and the fate of Solstheim, hangs in the balance as you face off against your deadliest adversary – the first Dragonborn. —Official Summary
Quest Information
Quests — Walkthroughs for new quests
Gameplay Information
Miscellaneous Information
Notes
Dragonborn was subject to a 30-day exclusivity deal with Microsoft, during which it was only available on the Xbox 360. In February 2013 it was released on both PC and PS3.
The soundtrack that plays on Solstheim contains several pieces from the Morrowind soundtrack.
See Also