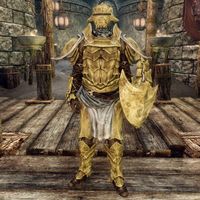 Redoran Guards are Dunmer soldiers in the service of House Redoran, serving in Raven Rock under Captain Veleth.
They all wear a full set of bonemold armor with a bonemold shield and defend themselves with an elven sword supplemented by an elven bow with twelve elven arrows. All the guards also carry a set of clothes and may carry a small amount of gold. There are two exceptions: one of the guards found working at the Earth Stone is missing both the shield and the helmet from his armor, and the guard stationed in The Bulwark Jail also carries the Raven Rock Jail Key.
During the quest Served Cold, two Redoran guards will be sent to Ashfallow Citadel to assist you in destroying the force amassed there by Vendil Ulen. When you arrive to meet them, you will find them dead, killed by the Morag Tong assassins there.
Related Quests
Edit
The Redoran Guards will voice their displeasure and mistrust if you are one of the beast races.