Red Mountain Flower
00

077e1d

2
0.1
Alchemy Effects
1st
 Restore Magicka
2nd
 Ravage Magicka
3rd
 Fortify Magicka
4th
 Damage Health
Sources
# Samples
98
Plant
Mountain Flower
# Plants
1213
Garden HF
3
Merchant Avail.
Common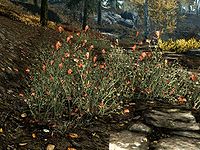 Red Mountain Flower is harvested from the red-flowered variety of mountain flower. Other varieties of mountain flower yield blue mountain flowers, purple mountain flowers, and yellow mountain flowersDG, but the flowers have different alchemical properties. The blue, purple, and red mountain flowers are commonplace in the foothills and lower elevations of mountains (below the snowline).
It is one of three (five with the Rare Curios Creation) ingredients that contain both Restore Magicka and Fortify Magicka effects, but the other two (briar heart and ectoplasm) are much less common than mountain flowers.
Combinations
Edit
In terms of combinations of two ingredients, Red Mountain Flowers can be combined with 67 other ingredients.
3 Effects
Edit
2 Effects
Edit
Desired Effect
Combine with:
 Damage Health
 Fortify Magicka
Emperor Parasol MossDB, Void Salts
 Damage Health
 Ravage Magicka
Coda FlowerCC (1.5×,1.56×) (1.5×,1.56×)
 Damage Health
 Restore Magicka
Human Flesh
 Fortify Magicka
 Restore Magicka
Blister Pod CapCC (1.25×,1.27×) (1.2×,1.22×), Briar Heart, LichorCC (1.25×,1.27×) (1.2×,1.22×)
 Ravage Magicka
 Restore Magicka
Grass Pod, White Cap, Wild Grass PodCC
| Desired Effect | Combine with: |
| --- | --- |
|  Restore Magicka | Bog BeaconCC (1.2×,1.22×), ComberryCC (1.2×,1.22×), Congealed PutrescenceCC (1.2×,1.22×), Creep Cluster, Dwarven Oil, Elves Ear, Elytra IchorCC (1.2×,1.22×), Fire Salts, Fungus StalkCC (1.2×,1.22×), Frost Salts, Giant Lichen, Green Butterfly WingCC, Moon Sugar, Mora Tapinella, Pearl, Steel-Blue EntolomaCC, Taproot, Vampire Dust, Withering MoonCC (1.2×,1.22×) |
|  Ravage Magicka | Alocasia FruitCC (1.5×,1.56×), Frost Mirriam, Lavender, Orange Dartwing, ScathecrawDB, Spawn AshDB |
|  Fortify Magicka | Blind Watcher's EyeCC (1.25×,1.27×), Histcarp, Hunger TongueCC (1.25×,1.27×), Jazbay Grapes, Red Kelp Gas BladderCC (1.25×,1.27×), Salmon RoeHF (12.5×, 0.08×, 1.05×), SaltriceCC (1.25×,1.27×), Stoneflower PetalsCC (1.25×,1.27×), Watcher's EyeCC (1.25×,1.27×), Tundra Cotton |
|  Damage Health | ChokeberryCC (1.5×,1.56×), Crimson Nirnroot (3.0×), Deathbell (1.5×), Falmer Ear, Fire PetalCC (1.5×,1.56×), Gnarl BarkCC (1.5×,1.56×), Human Heart, Imp Stool, Imp GallCC (1.5×,1.56×), Jarrin Root (100×), Mort FleshCC, Nightshade, Nirnroot (12.6×), Poison BloomDG (1.5×), Redwort FlowerCC (1.5×,1.56×), River Betty (2.5×), Scalon FinCC (1.5×,1.56×), Skeever Tail, Small Antlers, Troll Fat, Wisp Stalk CapsCC (1.5×,1.56×) |
Ingredients
Edit
98 guaranteed samples can be found in 45 different locations. Locations with the greatest numbers are:
It is categorized as a common ingredient, meaning that all apothecary merchants have a 36% chance of carrying 1-5 samples. In addition, it may be randomly found in some barrels and in apothecary's satchels.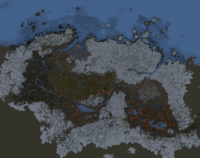 1213 red-colored mountain flower plants can be found in 180 different locations. Locations with the greatest numbers are: