Elves Ear
00

034d31

10
0.1
Alchemy Effects
1st
 Restore Magicka
2nd
 Fortify Marksman
3rd
 Weakness to Frost
4th
 Resist Fire
Sources
# Samples
71
Plant
Dried Elves Ear
# Plants
437
Merchant Avail.
Common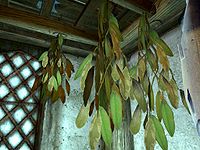 Elves Ear is harvested from branches of Dried Elves Ear that are found hanging to dry inside homes and other buildings, typically side by side with garlic and frost mirriam. It is not possible to harvest fresh elves ear directly from plants. Note that it is not related to Falmer ear, which actually comes from elves (specifically, Falmer).
Combinations
Edit
In terms of combinations of two ingredients, Elves Ear can be combined with 49 other ingredients.
3 Effects
Edit
2 Effects
Edit
Desired Effect
Combine with:

 

 Restore Magicka
Blister Pod CapCC (1.2×

 

,1.22×

 

), Bog BeaconCC (1.2×

 

,1.22×

 

), Briar Heart, ComberryCC (1.2×

 

,1.22×

 

), Congealed PutrescenceCC (1.2×

 

,1.22×

 

), Creep Cluster, Dwarven Oil, Ectoplasm, Elytra IchorCC (1.2×

 

,1.22×

 

), Frost Salts, Fungus StalkCC (1.2×

 

,1.22×

 

), Giant Lichen, Grass Pod, Green Butterfly WingCC, Human Flesh, LichorCC (1.2×

 

,1.22×

 

), Moon Sugar, Mora Tapinella, Pearl, Red Mountain Flower, Steel-Blue EntolomaCC, Taproot, Vampire Dust, Wild Grass PodCC, Withering MoonCC (1.2×

 

,1.22×

 

)

 

 Fortify Marksman
Canis Root, Corkbulb RootCC (1.25×

 

,1.27×

 

), Juniper Berries, Spider Egg

 

 Weakness to Frost
Abecean Longfin, Ash Hopper JellyDB, ChokeweedCC (1.33×

 

,1.36×

 

), Ice Wraith Teeth, Gold KanetCC (1.33×

 

,1.36×

 

)

 

 Resist Fire
Ash Creep ClusterDB, Ashen Grass PodDB (1.33×

 

,1.36×

 

), Berit's Ashes, Bliss Bug ThoraxCC, Bone Meal, Dragon's Tongue, Fire PetalCC (1.33×

 

,1.36×

 

), Fly Amanita, Gnarl BarkCC (1.33×

 

,1.36×

 

), Mudcrab Chitin, Sload SoapCC (1.33×

 

,1.36×

 

), Snowberries, Spawn AshDB
Ingredients
Edit
71 already-harvested samples can be found in 40 different locations. Locations with the greatest numbers are:
It is categorized as a common ingredient, meaning that all apothecary merchants have a 36% chance of carrying 1-5 samples. In addition, it may be randomly found in some barrels and in apothecary's satchels.
437 dried elves ear branches can be found in 168 different locations, which include nearly every home and inn. Locations with the greatest numbers are:
Elves Ear appears very similar in appearance to real-world Sage, which is a culinary herb, similar to how Elves Ear is portrayed in the game (as it is often found in kitchens).