Lavender
00

045c28

1
0.1
Alchemy Effects
1st
 Resist Magic
2nd
 Fortify Stamina
3rd
 Ravage Magicka
4th
 Fortify Conjuration
Sources
# Samples
254
Plant
Lavender
# Plants
530
Garden HF
3
Merchant Avail.
Common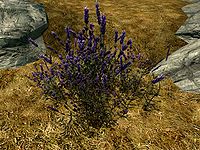 Lavender is an herb that flourishes in cold steppe climates, particularly in Whiterun Hold, but also in several other holds.
Combinations
Edit
In terms of combinations of two ingredients, Lavender can be combined with 43 other ingredients.
| Desired Effect | Combine with: |
| --- | --- |
|  Resist Magic | Aster Bloom CoreCC (1.2×,1.22×), Bleeding Crown, Bungler's BaneCC (1.2×,1.22×), Chicken's Egg, Crimson Nirnroot, Felsaad Tern FeathersDB, GleamblossomDG, Hagraven Claw, Hawk's EggHF, Hypha FaciaCC (1.2×,1.22×), Nirnroot, Tundra Cotton, Void Salts, Wisp Wrappings |
|  Fortify Stamina | Boar TuskDB (1.25×,5×,7.5×), Chaurus Eggs, Fungus StalkCC (1.25×,5×,7.5×), Garlic, Large Antlers, Scrib JerkyCC (1.25×,1.27×), Slaughterfish Egg, Torchbug Thorax, Void EssenceCC (1.25×,5×,7.5×) |
|  Ravage Magicka | Alocasia FruitCC (1.5×,1.56×), Coda FlowerCC (1.5×,1.56×), Frost Mirriam, Grass Pod, Orange Dartwing, Red Mountain Flower, ScathecrawDB, Spawn AshDB, White Cap, Wild Grass PodCC |
|  Fortify Conjuration | Ancestor Moth WingDG, Berit's Ashes, Blue Butterfly Wing, Blue Mountain Flower, Bone Meal, Chaurus Hunter AntennaeDG, Congealed PutrescenceCC (1.2×,1.22×), Frost Salts, Hagraven Feathers, Sload SoapCC (1.2×,1.22×) |
Ingredients
Edit
254 guaranteed samples can be found in 95 different locations. Locations with the greatest numbers are:
It is categorized as a common ingredient, meaning that all apothecary merchants have a 36% chance of carrying 1-5 samples. In addition, it may be randomly found in some barrels and in apothecary's satchels.
530 lavender plants can be found in 73 different locations. Locations with the greatest numbers are: