White Cap
00

04da22

0
0.3
Alchemy Effects
1st
 Weakness to Frost
2nd
 Fortify Heavy Armor
3rd
 Restore Magicka
4th
 Ravage Magicka
Sources
# Samples
21
Plant
White Cap
# Plants
387
Garden HF
2
Merchant Avail.
Uncommon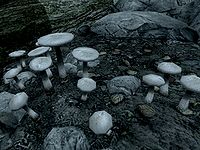 White Cap is a mushroom commonly found in caves.
Combinations
Edit
In terms of combinations of two ingredients, White Cap can be combined with 44 other ingredients.
2 Effects
Edit
| Desired Effect | Combine with: |
| --- | --- |
|  Weakness to Frost | Abecean Longfin, Ash Hopper JellyDB, ChokeweedCC (1.33×,1.36×), Gold KanetCC (1.33×,1.36×) |
|  Fortify Heavy Armor | Bliss Bug ThoraxCC, Gnarl BarkCC (1.5×,1.56×), Sabre Cat Tooth, Slaughterfish Scales, Thistle Branch |
|  Restore Magicka | Blister Pod CapCC (1.2×,1.22×), Briar Heart, ComberryCC (1.2×,1.22×), Congealed PutrescenceCC (1.2×,1.22×), Creep Cluster, Dwarven Oil, Ectoplasm, Elytra IchorCC (1.2×,1.22×), Frost Salts, Fungus StalkCC (1.2×,1.22×), Giant Lichen, Green Butterfly WingCC, Human Flesh, LichorCC (1.2×,1.22×), Moon Sugar, Mora Tapinella, Pearl, Steel-Blue EntolomaCC, Taproot, Vampire Dust, Withering MoonCC (1.2×,1.22×) |
|  Ravage Magicka | Alocasia FruitCC (1.5×,1.56×), Coda FlowerCC (1.5×,1.56×), Frost Mirriam, Lavender, Orange Dartwing, ScathecrawDB, Spawn AshDB |
Ingredients
Edit
21 guaranteed samples can be found in 14 different locations. Locations with multiple samples are:
It is categorized as an uncommon ingredient, meaning that all apothecary merchants have a 15% chance of carrying 1-5 samples. In addition, it may be randomly found in uncommon- and rare-type apothecary's satchels.
387 white cap mushrooms can be found in 66 different locations. Locations with the greatest numbers are: