Withering Moon


FE

xxx

824

Added by
Rare Curios
5
0.1
Alchemy Effects
1st
 Restore Magicka (1.2×,1.22×)
2nd
 Spell Absorption
3rd
 Fortify Light Armor (1.5×,1.56×)
4th
 Cure Disease (0.36×)
Withering Moon is an ingredient added by the Rare Curios Creation. It can be purchased from Khajiit caravans. They can occasionally be found in hollow stumps in the Solitude Sewers with the Saints & Seducers Creation installed.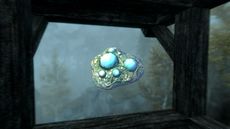 Combinations
Edit
2 Effects
Edit
| Desired Effect | Combine with: |
| --- | --- |
|  Restore Magicka | Blister Pod CapCC (1.2×,1.22×), Bog BeaconCC (1.2×,1.22×), Briar Heart, ComberryCC (1.2×,1.22×), Congealed PutrescenceCC (1.2×,1.22×), Creep Cluster, Dwarven Oil, Ectoplasm, Elves Ear, Elytra IchorCC (1.2×,1.22×), Fire Salts, Frost Salts, Fungus StalkCC (1.2×,1.22×), Giant Lichen, Grass Pod, Green Butterfly WingCC, Human Flesh, Moon Sugar, Mora Tapinella, Pearl, Red Mountain Flower, Steel-Blue EntolomaCC, Taproot, White Cap, Wild Grass PodCC |
|  Spell Absorption | Blind Watcher's EyeCC, ComberryCC, Daedra VeninCC, Fire PetalCC, Watcher's EyeCC |
|  Fortify Light Armor | Ash Hopper JellyDB, Aster Bloom CoreCC (2×,2.14×), Beehive Husk, Honeycomb, Luna Moth Wing, Skeever Tail |
|  Cure Disease | Charred Skeever Hide (0.36×), ChokeweedCC (0.36×), Hunger TongueCC (0.36×), Juvenile MudcrabCC, Mudcrab Chitin, Red Kelp Gas BladderCC (0.36×), Scrib JellyCC (0.36×), SpadefishCC |