This article is about the Creation. For the creature, see Goblin.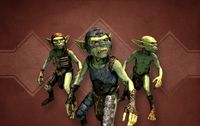 Goblins is a Creation for Skyrim. It adds the new Goblin creature type to fight, as well as a recruitable Goblin companion who wields a legendary artifact known as the Spear of Bitter Mercy, which only he can wield. A new plantable alchemy ingredient is also available.
Official Summary
Edit
Creation Club

From the caves of Cyrodiil comes a horde of these feisty green creatures, led by a mysterious "Blue God" wielding a Goblin Staff. Includes new encounters, an ingredient, and a recruitable goblin! Quest by Kris Takahashi. Art support by ElleH. (Quest "Blue in the Face" starts by reading Letter to Clexius at The Bee and Barb in Riften.)
Sneak Peek - November 2019

From the caves of the Jerall Mountains along Skyrim's southern border emerge these feisty green creatures, led by a mysterious "Blue God" wielding a Goblin Staff. This Creation includes new encounters, a new plantable alchemy ingredient and a recruitable goblin! Your new goblin companion has their own cosmetic options and possesses a unique summoning artifact only they can wield..
With this new release, small groups of goblins have emerged through the Jerall Mountains. And they aren't the most amenable folk.
But there is one exception, a potential goblin sidekick, Gogh. This fellow will fight alongside you, and if you wish, another standard companion. Despite their size Gogh is no slouch, and possess a magic artifact that can summon a storm atronach. They're quite possessive of this, and it is not something the player can obtain themselves. Gogh has several equipment options, but these are purely cosmetic..
The Goblin Totem Staff can be found in Khajiit Caravaneer's inventories and carried by the Blue God.
The Goblin Totem Staff enchantment is the exact same as the Staff Of Chain Lightning. The staff cannot be tempered or crafted.
Goblin attacks can occur near Gromm's Pass and also near the Cyrodiil Border Crossing in Falkreath just past Halldir's Cairn.
Steel-Blue Entoloma mushrooms are also sold by the Khajiit Caravans.