Alocasia Fruit


FE

xxx

D62

Added by
Rare Curios
22
0.25
Alchemy Effects
1st
 Regenerate Stamina (1.2×,1.22×)
2nd
 Light
3rd
 Ravage Magicka (1.5×,1.56×)
4th
 Regenerate Health (1.2×,1.22×)
Alocasia Fruit is an ingredient added by the Rare Curios Creation. It can be purchased from Khajiit caravans. They can occasionally be found in hollow stumps in the Solitude Sewers with the Saints & Seducers Creation installed.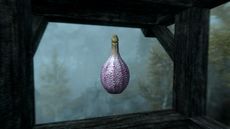 Combinations
Edit
2 Effects
Edit
| Desired Effect | Combine with: |
| --- | --- |
|  Regenerate Stamina | Bee, Fly Amanita, Juvenile MudcrabCC, Mora Tapinella, Red Kelp Gas BladderCC (1.2×,1.22×), Scaly Pholiota, Scrib JellyCC (1.2×,1.22×), Wisp Stalk CapsCC (1.2×,1.22×) |
|  Light | Blind Watcher's EyeCC |
|  Ravage Magicka | Coda FlowerCC (1.5×,1.56×), Frost Mirriam, Grass Pod, Lavender, Orange Dartwing, Red Mountain Flower, ScathecrawDB, Spawn AshDB, White Cap, Wild Grass PodCC |
|  Regenerate Health | AmbrosiaCC (1.2×,1.22×), Emperor Parasol MossDB, Garlic, GleamblossomDG, Gnarl BarkCC (1.2×,1.22×), Juniper Berries, Luna Moth Wing, Minotaur HornCC (1.2×,1.22×)(1.2×,1.22×), Namira's Rot, Nordic Barnacle, Ogre's TeethCC (1.2×,1.22×), Screaming MawCC (4×,0.03×,0.11×), Thorn HookCC (0.6×,0.6×,0.32×), Vampire Dust, Void EssenceCC (1.2×,1.22×) |