Imp Stool
00

04da23

0
0.3
Alchemy Effects
1st
 Damage Health
2nd
 Lingering Damage Health
3rd
 Paralysis
4th
 Restore Health (0.6×,0.57×)
Sources
# Samples
20
Plant
Imp Stool
# Plants
283
Garden HF
4
Merchant Avail.
Rare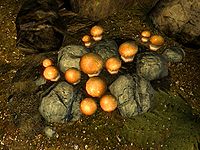 Imp Stool is a fungus found in caves. It tends to be situated near the edges where wall and floor meet.
Combinations
Edit
In terms of combinations of two ingredients, Imp Stool can be combined with 65 other ingredients.
2 Effects
Edit
Desired Effect
Combine with:
 Damage Health
 Lingering Damage Health
ChokeberryCC (1.5×,1.56×) (2×,2.14)
 Damage Health
 Paralysis
Fire PetalCC (1.5×,1.56×) (1.5×,1.56×), Human Flesh
 Lingering Damage Health
 Paralysis
Rot ScaleCC (3×,3.34×), Thorn HookCC
 Paralysis
 Restore Health
Corkbulb RootCC (1.5×,1.56×) (1.2×,1.22×), Swamp Fungal Pod
| Desired Effect | Combine with: |
| --- | --- |
|  Damage Health | Coda FlowerCC (1.5×,1.56×), Crimson Nirnroot (3.0×), Deathbell (1.5×), Ectoplasm, Emperor Parasol MossDB, Falmer Ear, Gnarl BarkCC (1.5×,1.56×), Human Heart, Imp GallCC (1.5×,1.56×), Jarrin Root (100×), Mort FleshCC, Nightshade, Nirnroot (12.6×), Poison BloomDG (1.5×), Red Mountain Flower, Redwort FlowerCC (1.5×,1.56×), River Betty (2.5×), Scalon FinCC (1.5×,1.56×), Skeever Tail, Small Antlers, Troll Fat, Void Salts, Wisp Stalk CapsCC (1.5×,1.56×) |
|  Lingering Damage Health | Luminous RussulaCC (2×,2.14), Mora Tapinella, Orange Dartwing, RoobrushCC (2×,2.14), ScathecrawDB, Slaughterfish Egg, Slaughterfish Scales |
|  Paralysis | Aster Bloom CoreCC (1.5×,1.56×), Briar Heart, Canis Root, Daedra SilkCC (1.5×,1.56×), Daedra VeninCC (1.5×,1.56×), GleamblossomDG, Gold KanetCC (1.5×,1.56×), Hackle-Lo LeafCC (1.5×,1.56×), Netch JellyDB, Purple Butterfly WingCC, Scrib JerkyCC (1.5×,1.56×) |
|  Restore Health | AmbrosiaCC (1.2×,1.22×), Ash Hopper JellyDB, Blisterwort (0.6×,0.57×), Blue Dartwing, Blue Mountain Flower, Butterfly Wing, Charred Skeever Hide, Daedra Heart, Eye of Sabre Cat, Felsaad Tern FeathersDB, Flame StalkCC (1.2×,1.22×), Heart of OrderCC (1.2×,1.22×), MarshmerrowCC (1.2×,1.22×), Rock Warbler Egg, SaltriceCC (1.2×,1.22×), SpadefishCC, Void EssenceCC (1.2×,1.22×), Wheat |
Ingredients
Edit
20 guaranteed samples can be found in 15 different locations. Locations with multiple samples are:
It is categorized as a rare ingredient, meaning that most apothecary merchants have a 21% chance of carrying 1-4 samples. In addition, it may be randomly found only in rare-type apothecary's satchels.
283 imp stool plants can be found in 54 different locations. Locations with the greatest numbers are:
The base magnitude of the Restore Health effect for this ingredient is 3 instead of 5. This is only relevant if blisterwort and imp stool are combined, in which case the resulting potion will have a 40% smaller magnitude than a typical custom Restore Health potion.