Red Kelp Gas Bladder


FE

xxx

817

Added by
Rare Curios
20
0.1
Alchemy Effects
1st
 Regenerate Stamina (1.2×,1.22×)
2nd
 Waterbreathing (1.6×,1.67×)
3rd
 Cure Disease (0.36×)
4th
 Fortify Magicka (1.25×,1.27×)
Red Kelp Gas Bladder is an ingredient added by the Rare Curios Creation. It can be purchased from Khajiit caravans. They can occasionally be found in hollow stumps in the Solitude Sewers with the Saints & Seducers Creation installed.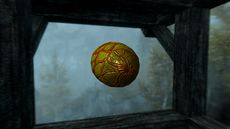 Combinations
Edit
2 Effects
Edit
| Desired Effect | Combine with: |
| --- | --- |
|  Regenerate Stamina | Alocasia FruitCC (1.2×,1.22×), Bee, Daedroth TeethCC (1.2×,1.22×), Fly Amanita, Mora Tapinella, Purple Butterfly WingCC, Scaly Pholiota, Wisp Stalk CapsCC (1.2×,1.22×) |
|  Waterbreathing | Chicken's Egg, Fungus StalkCC (1.6×,1.67×), Hackle-Lo LeafCC, Hawk's EggHF, Luminous RussulaCC (1.6×,1.67×), Nordic Barnacle, Scalon FinCC (1.6×,1.67×), Scrib JerkyCC (1.6×,1.67×) |
|  Cure Disease | Charred Skeever Hide (0.36×), ChokeweedCC (0.36×), Felsaad Tern FeathersDB, Hawk Feathers (0.36×), Mudcrab Chitin, SpadefishCC, Vampire Dust, Withering MoonCC (0.36×) |
|  Fortify Magicka | Blind Watcher's EyeCC (1.25×,1.27×), Blister Pod CapCC (1.25×,1.27×), Briar Heart, Ectoplasm, Emperor Parasol MossDB, Jazbay Grapes, LichorCC (1.25×,1.27×), Red Mountain Flower, SaltriceCC (1.25×,1.27×), Stoneflower PetalsCC (1.25×,1.27×), Tundra Cotton, Void Salts, Watcher's EyeCC (1.25×,1.27×) |