Scalon Fin


FE

xxx

81B

Added by
Rare Curios
25
0.1
Alchemy Effects
1st
 Waterbreathing (1.6×,1.67×)
2nd
 Damage Health (1.5×,1.56×)
3rd
 Lingering Damage Magicka (2×,2.14×)
4th
 Damage Magicka Regen (2×,2.14×)
Scalon Fin is an ingredient added by the Rare Curios Creation. It can be purchased from Khajiit caravans. They can occasionally be found in hollow stumps in the Solitude Sewers with the Saints & Seducers Creation installed.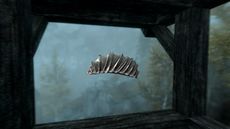 Combinations
Edit
2 Effects
Edit
| Desired Effect | Combine with: |
| --- | --- |
|  Waterbreathing | Fungus StalkCC (1.6×,1.67×), Hackle-Lo LeafCC (1.6×,1.67×), Histcarp, Luminous RussulaCC (1.6×,1.67×), Nordic Barnacle, Red Kelp Gas BladderCC (1.6×,1.67×), Salmon RoeHF (12×,15.4×), Scrib JerkyCC (1.6×,1.67×) |
|  Damage Health | ChokeberryCC (1.5×,1.56×), Coda FlowerCC (1.5×,1.56×), Crimson Nirnroot (3×), Deathbell (1.5×), Ectoplasm, Emperor Parasol MossDB, Falmer Ear, Fire PetalCC (1.5×,1.56×), Gnarl BarkCC (1.5×,1.56×), Human Flesh, Imp GallCC (1.5×,1.56×), Imp Stool, Nirnroot (12.6×), Poison BloomDG (1.5×), Red Mountain Flower, Redwort FlowerCC (1.5×,1.56×), River Betty (2.5×), Skeever Tail, Small Antlers, Troll Fat, Void Salts, Wisp Stalk CapsCC (1.5×,1.56×) |
|  Lingering Damage Magicka | Hagraven Claw, Ogre's TeethCC (2×,2.14), Purple Mountain Flower, Swamp Fungal Pod, Torchbug Thorax, Wheat |
|  Damage Magicka Regen | Ancestor Moth WingDG, Bear Claws, Blue Butterfly Wing, Blue Mountain Flower, Burnt Spriggan WoodDB, Chaurus Hunter AntennaeDG, Daedroth TeethCC (2×,2.14×), Glow Dust, Hanging Moss, Minotaur HornCC (2×,2.14×), Spider Egg, Spriggan Sap |