Green Butterfly Wing


xx

059151

Added by
Saints & Seducers
25
0.1
Alchemy Effects
1st
 Restore Magicka
2nd
 Fear
3rd
 Slow (6×,0.57×)
4th
 Invisibility
Sources
Creature
Green Butterfly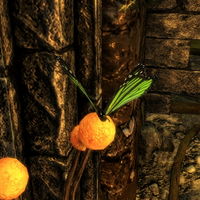 Green Butterfly Wing is an ingredient added by the Saints & Seducers Creation. They can be harvested by catching Green Butterflies.
Combinations
Edit
4 Effects
Edit
2 Effects
Edit
| Desired Effect | Combine with: |
| --- | --- |
|  Restore Magicka | Briar Heart, ComberryCC (1.2×,1.22×), Congealed PutrescenceCC (1.2×,1.22×), Creep Cluster, Dwarven Oil, Ectoplasm, Elves Ear, Fire Salts, Frost Salts, Fungus StalkCC (1.2×,1.22×), Giant Lichen, Grass Pod, Human Flesh, LichorCC (1.2×,1.22×), Moon Sugar, Mora Tapinella, Pearl, Red Mountain Flower, Steel-Blue EntolomaCC, Taproot, White Cap, Wild Grass PodCC, Withering MoonCC (1.2×,1.22×) |
|  Fear | Blue Dartwing, Cyrodilic Spadetail, Daedra Heart, GleamblossomDG, Luminous RussulaCC (2×,2.14×), Namira's Rot, Netch JellyDB, Powdered Mammoth Tusk, Sload SoapCC (2×,2.14×) |
|  Slow | Bungler's BaneCC (2×,2.14×), Burnt Spriggan WoodDB, Deathbell, Kresh FiberCC (2×,2.14×), Large Antlers (6×, 1.75×), River Betty, Salt Pile, Trama RootDB, Worm's Head CapCC (2×,2.14×) |
|  Invisibility | Ash Creep ClusterDB, Bittergreen PetalsCC (1.5×,1.56×), Chaurus Eggs, Crimson Nirnroot, Daedra SilkCC (1.5×,1.56×), Flame StalkCC (1.5×,1.56×), Ice Wraith Teeth, Luna Moth Wing, Nirnroot, Redwort FlowerCC (1.5×,1.56×), Screaming MawCC (4×,4.6×) |
Green butterfly wings have the same alchemical properties as elytra ichor, but with different multipliers. Combining these two ingredients will therefore result in all four effects being discovered at once.