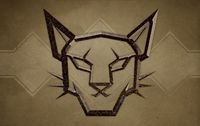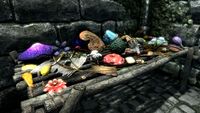 Rare Curios is a Creation that adds 51 ingredients from Morrowind, Oblivion, and Shivering Isles. Some of these ingredients have new effects from the previous games. The Creation also includes poisoned apples, Ayleid treasures, and new arrows and bolts. It was released on August 29, 2018 for 100 CC Credits.
Note: Rare Curios is included as part of the Saints & Seducers Creation and should not be purchased separately if you plan to get both.
Official Summary
Edit
Creation Club

Alchemists have always known that the rarest ingredients bring life to the most powerful potions. This is why Khajiit caravans have brought along rare imports from the far reaches of Tamriel, from the Ashlands of Morrowind to the twisted gardens of the Shivering Isles. With these ingredients in hand, you can craft new potions, arrows, and poisons, including the poisoned apple favored by assassins. You can also find rare stones crafted by the Ayleids, as things exotic and foreign make their way to Skyrim. (Creation added to Khajiit merchant vendors)
Sneak Peek - Aug 2018

A large collection of classic items come to Skyrim! This includes over 50 alchemical ingredients from the lands of Morrowind, Cyrodiil, and beyond. There are also returning potion effects, expanded crossbow bolts, and a few lost treasures of the Ayleids. None of these are commonly found in the lands of Skyrim, but the traveling Khajiit caravans are likely your best bet to find some.