Purple Mountain Flower
00

077e1e

2
0.1
Alchemy Effects
1st
 Restore Stamina
2nd
 Fortify Sneak
3rd
 Lingering Damage Magicka
4th
 Resist Frost
Sources
# Samples
88
Plant
Mountain Flower
# Plants
1935
Garden HF
3
Merchant Avail.
Common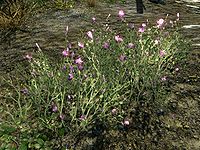 Purple Mountain Flower is harvested from the purple-flowered variety of mountain flower. Other varieties of mountain flower yield blue mountain flowers, red mountain flowers, and yellow mountain flowersDG, but the flowers have different alchemical properties. The blue, purple, and red mountain flowers are commonplace in the foothills and lower elevations of mountains (below the snowline).
Combinations
Edit
In terms of combinations of two ingredients, Purple Mountain Flowers can be combined with 47 other ingredients.
2 Effects
Edit
| Desired Effect | Combine with: |
| --- | --- |
|  Restore Stamina | Bear Claws (0.8×0.78×), Bee, Charred Skeever Hide, ChokeweedCC (1.2×,1.22×), Eye of Sabre Cat, Hackle-Lo LeafCC (1.2×,1.22×), Histcarp, Honeycomb, Large Antlers, Mudcrab Chitin, Netch JellyDB (2.0×), Orange Dartwing, Pearl, Pine Thrush Egg, Sabre Cat Tooth, Salmon RoeHF (0.4×, 0.36×), SaltriceCC (1.2×,1.22×), Scrib JerkyCC (1.2×,1.22×), Wisp Wrappings |
|  Fortify Sneak | Abecean Longfin, Ashen Grass PodDB, Beehive Husk, Hawk Feathers, Human Flesh, Kresh FiberCC (1.25×,1.27×), RoobrushCC (1.25×,1.27×) |
|  Lingering Damage Magicka | Hagraven Claw, Ogre's TeethCC (2×,2.14), Scalon FinCC (2×,2.14), Swamp Fungal Pod, Wheat |
|  Resist Frost | Daedroth TeethCC (1.33×,1.36×), Flame StalkCC (1.33×,1.36×), Frost Salts, Hydnum Azure Giant SporeCC (1.33×,1.36×), Moon Sugar, Redwort FlowerCC (1.33×,1.36×), Slaughterfish Scales, Snowberries, Steel-Blue EntolomaCC, Thistle Branch |
Ingredients
Edit
88 guaranteed samples can be found in 47 different locations. Locations with the greatest numbers are:
It is categorized as a common ingredient, meaning that all apothecary merchants have a 36% chance of carrying 1-5 samples. In addition, it may be randomly found in some barrels and in apothecary's satchels.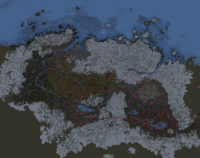 1935 purple-colored mountain flower plants can be found in 250 different locations. Locations with the greatest numbers are: