Dwarven Oil
00

0f11c0

15
0.25
Alchemy Effects
1st
 Weakness to Magic
2nd
 Fortify Illusion
3rd
 Regenerate Magicka
4th
 Restore Magicka
Sources
# Samples
11
Creature
Dwarven Automatons
Merchant Avail.
Uncommon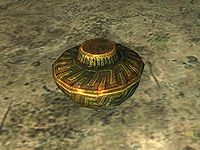 Dwarven Oil is dropped by Dwarven automatons. Dwarven oil has all the same effects as taproot, allowing you to make a potion with all four effects.
Combinations
Edit
4 Effects
Edit
2 Effects
Edit
| Desired Effect | Combine with: |
| --- | --- |
|  Weakness to Magic | Rock Warbler Egg, Torchbug Thorax |
|  Fortify Illusion | Dragon's Tongue |
|  Regenerate Magicka | Garlic, Salmon RoeHF |
|  Restore Magicka | Briar Heart, Ectoplasm, Elves Ear, Frost Salts, Giant Lichen, Grass Pod, Human Flesh, Pearl, Red Mountain Flower, Vampire Dust, White Cap |
Ingredients
Edit
11 guaranteed samples can be found in 3 different locations:
With the Dawnguard add-on 1 more guaranteed sample can be found in 1 different location:
With the Dragonborn add-on 12 more guaranteed samples can be found in 1 different location:
It is categorized as an uncommon ingredient, meaning that all apothecary merchants have a 15% chance of carrying 1-5 samples. In addition, it may be randomly found in uncommon- and rare-type apothecary's satchels.
Creatures
Edit
Last modified on 9 April 2018, at 04:02