Giant Lichen
00

07e8c1

5
0.25
Alchemy Effects
1st
 Weakness to Shock
2nd
 Ravage Health
3rd
 Weakness to Poison
4th
 Restore Magicka
Sources
# Samples
28
Plant
Giant Lichen
# Plants
143
Garden HF
4
Merchant Avail.
Uncommon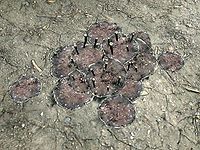 Giant Lichen is harvested from a fungus of the same name which is found in the marshes of Hjaalmarch.
Combinations
Edit
In terms of combinations of two ingredients, Giant Lichen can be combined with 52 other ingredients.
2 Effects
Edit
| Desired Effect | Combine with: |
| --- | --- |
|  Weakness to Shock | Ashen Grass PodDB, Bee, Hagraven Feathers, Ogre's TeethCC (1.33×,1.36×), Stoneflower PetalsCC (1.33×,1.36×), Trama RootDB, Void Salts |
|  Ravage Health | Cyrodilic Spadetail, Daedra VeninCC (1.5×,3.34×), Eye of Sabre Cat, Gold KanetCC (1.5×,3.34×), Jazbay Grapes, ScathecrawDB, Silverside Perch, Skeever Tail |
|  Weakness to Poison | Abecean Longfin, Bleeding Crown, Chaurus Eggs, Deathbell, Hypha FaciaCC (1.5×,1.56×), Pine Thrush Egg, Sabre Cat Tooth, Small Antlers, Wisp Stalk CapsCC (1.5×,1.56×) |
|  Restore Magicka | Blister Pod CapCC (1.2×,1.22×), Bog BeaconCC (1.2×,1.22×), Briar Heart, ComberryCC (1.2×,1.22×), Creep Cluster, Dwarven Oil, Ectoplasm, Elves Ear, Elytra IchorCC (1.2×,1.22×), Fire Salts, Frost Salts, Fungus StalkCC (1.2×,1.22×), Grass Pod, Green Butterfly WingCC, Human Flesh, LichorCC (1.2×,1.22×), Moon Sugar, Mora Tapinella, Pearl, Red Mountain Flower, Steel-Blue EntolomaCC, Taproot, Vampire Dust, White Cap, Wild Grass PodCC, Withering MoonCC (1.2×,1.22×) |
Ingredients
Edit
28 guaranteed samples can be found in 17 different locations. Locations with multiple samples are:
It is categorized as an uncommon ingredient, meaning that all apothecary merchants have a 15% chance of carrying 1-5 samples. In addition, it may be randomly found in uncommon- and rare-type apothecary's satchels.
143 giant lichen plants can be found in 12 different locations. Locations with multiple plants are: