Chokeberry


FE

xxx

838

Added by
Rare Curios
15
0.1
Alchemy Effects
1st
 Damage Health (1.5×,1.56×)
2nd
 Ravage Health (1.5×,3.34×)
3rd
 Lingering Damage Health (2×,2.14×)
4th
 Weakness to Poison (1.5×,1.56×)
Chokeberry is an ingredient added by the Rare Curios Creation. It can be purchased from Khajiit caravans, and Babette also sells 1-4 samples.
Chokeberries can also be used in cooking to create Poisoned Green Apples and Poisoned Red Apples, which can be powerful tools of assassination.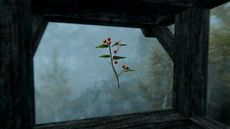 Combinations
Edit
2 Effects
Edit
| Desired Effect | Combine with: |
| --- | --- |
|  Damage Health | Coda FlowerCC (1.5×,1.56×), Crimson Nirnroot (3×), Ectoplasm, Emperor Parasol MossDB, Falmer Ear, Fire PetalCC (1.5×,1.56×), Gnarl BarkCC (1.5×,1.56×), Human Flesh, Human Heart, Imp GallCC (1.5×,1.56×), Jarrin Root (100×), Mort FleshCC, Nightshade, Nirnroot (12.6×), Poison BloomDG (1.5×), Red Mountain Flower, Redwort FlowerCC (1.5×,1.56×), River Betty (2.5×), Scalon FinCC (1.5×,1.56×), Troll Fat, Void Salts |
|  Ravage Health | Congealed PutrescenceCC (1.5×,3.34×), Cyrodilic Spadetail, Daedra VeninCC (1.5×,3.34×), Eye of Sabre Cat, Gold KanetCC (1.5×,3.34×), Jazbay Grapes, Silverside Perch |
|  Lingering Damage Health | Luminous RussulaCC (2×,2.14), Mora Tapinella, Orange Dartwing, RoobrushCC (2×,2.14), Rot ScaleCC (3×,3.34×), Slaughterfish Egg, Slaughterfish Scales, Thorn HookCC |
|  Weakness to Poison | Abecean Longfin, Bleeding Crown, Chaurus Eggs, Hypha FaciaCC (1.5×,1.56×), Pine Thrush Egg, Sabre Cat Tooth |