Slaughterfish Scales
00

03ad70

3
0.1
Alchemy Effects
1st
 Resist Frost
2nd
 Lingering Damage Health
3rd
 Fortify Heavy Armor
4th
 Fortify Block
Sources
# Samples
71
Creature
Slaughterfish
Merchant Avail.
Uncommon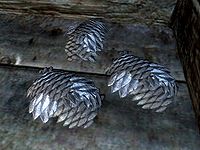 Slaughterfish Scales are dropped by slaughterfish. However, slaughterfish do not drop slaughterfish eggs—those are only found in egg nests.
Combinations
Edit
2 Effects
Edit
| Desired Effect | Combine with: |
| --- | --- |
|  Resist Frost | Frost Mirriam, Frost Salts, Hawk Beak, Moon Sugar, Purple Mountain Flower, Silverside Perch, Small Pearl, Snowberries |
|  Lingering Damage Health | Imp Stool, Mora Tapinella, Orange Dartwing, ScathecrawDB, Slaughterfish Egg |
|  Fortify Heavy Armor | Ice Wraith Teeth, Sabre Cat Tooth, White Cap |
|  Fortify Block | Bleeding Crown, Boar TuskDB, Briar Heart (0.5×), Honeycomb (0.5×), Pearl, Tundra Cotton |
Ingredients
Edit
71 guaranteed samples can be found in 32 different locations. Locations with the greatest numbers are:
It is categorized as an uncommon ingredient, meaning that all apothecary merchants have a 15% chance of carrying 1-5 samples. In addition, it may be randomly found in uncommon- and rare-type apothecary's satchels.
Creatures
Edit