Blisterwort
00

04da25

12
0.2
Alchemy Effects
1st
 Damage Stamina
2nd
 Frenzy
3rd
 Restore Health (0.6×,0.57×)
4th
 Fortify Smithing
Sources
# Samples
24
Plant
Blisterwort
# Plants
254
Garden HF
4
Merchant Avail.
Uncommon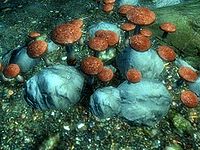 Blisterwort is a variety of fungus that is commonly found growing in caves. Several people recommend combining blisterwort with wheat to make a potion of restore health.
Combinations
Edit
In terms of combinations of two ingredients, Blisterwort can be combined with 32 other ingredients.
2 Effects
Edit
| Desired Effect | Combine with: |
| --- | --- |
|  Damage Stamina | Ancestor Moth WingDG, Ash Creep ClusterDB, Blue Butterfly Wing, Bone Meal, Canis Root, Chaurus Hunter AntennaeDG, Crimson Nirnroot (3.0×), Cyrodilic Spadetail, Giant's Toe, Nirnroot, Spider Egg |
|  Frenzy | Boar TuskDB, Falmer Ear, Fly Amanita, Hagraven Feathers, Human Heart, Mort FleshCC, Troll Fat |
|  Restore Health | Ash Hopper JellyDB, Blue Dartwing, Blue Mountain Flower, Butterfly Wing, Charred Skeever Hide, Daedra Heart, Eye of Sabre Cat, Felsaad Tern FeathersDB, Imp Stool (0.6×), Swamp Fungal Pod, Wheat |
|  Fortify Smithing | Glowing Mushroom, Gold KanetCC (1.25×), Sabre Cat Tooth, Spriggan Sap |
Ingredients
Edit
24 guaranteed samples can be found in 17 different locations. Locations with multiple samples are:
It is categorized as an uncommon ingredient, meaning that all apothecary merchants have a 15% chance of carrying 1-5 samples. In addition, it may be randomly found in uncommon- and rare-type apothecary's satchels. Other possible locations for already-harvested samples include:
There are 254 blisterwort mushroom clusters found in 44 different locations. Locations with the greatest numbers are:
The base magnitude of the Restore Health effect for this ingredient is 3 instead of 5. This is only relevant if blisterwort and imp stool are combined, in which case the resulting potion will have a 40% smaller magnitude than a typical custom Restore Health potion.