Swamp Fungal Pod
00

07e8b7

5
0.25
Alchemy Effects
1st
 Resist Shock
2nd
 Lingering Damage Magicka
3rd
 Paralysis
4th
 Restore Health
Sources
# Samples
24
Plant
Swamp Fungal Pod
# Plants
139
Garden HF
3
Merchant Avail.
Uncommon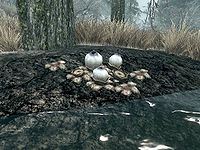 Swamp Fungal Pod is a fungus found in the marshes of Hjaalmarch.
Combinations
Edit
2 Effects
Edit
| Desired Effect | Combine with: |
| --- | --- |
|  Resist Shock | Glow Dust, Glowing Mushroom, Hawk Beak, Pearl, Pine Thrush Egg, Snowberries |
|  Lingering Damage Magicka | Hagraven Claw, Purple Mountain Flower, Torchbug Thorax |
|  Paralysis | Briar Heart, Canis Root, GleamblossomDG, Human Flesh, Netch JellyDB |
|  Restore Health | Blisterwort (0.6×), Blue Mountain Flower, Butterfly Wing, Charred Skeever Hide, Daedra Heart, Eye of Sabre Cat, Felsaad Tern FeathersDB, Rock Warbler Egg |
Ingredients
Edit
24 guaranteed samples can be found in 12 different locations. Locations with multiple samples are:
It is categorized as an uncommon ingredient, meaning that all apothecary merchants have a 15% chance of carrying 1-5 samples. In addition, it may be randomly found in uncommon- and rare-type apothecary's satchels.
139 swamp fungal pod plants are found in 13 different locations. Locations with the most plants are: