Ash Hopper Jelly


xx

01cd71

20
0.25
Alchemy Effects
1st
 Restore Health
2nd
 Fortify Light Armor
3rd
 Resist Shock
4th
 Weakness to Frost
Sources
# Samples
1
Creature
Ash Hopper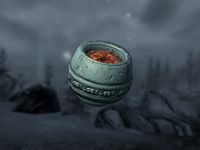 Ash Hopper Jelly is an ingredient dropped by ash hoppers.
The only guaranteed sample can be found in Severin Manor in Raven Rock on a barrel next to the alchemy table downstairs.
Combinations
Edit
In terms of combinations of two ingredients, Ash Hopper Jelly can be combined with 40 other ingredients.
2 Effects
Edit
| Desired Effect | Combine with: |
| --- | --- |
|  Restore Health | AmbrosiaCC (1.2×,1.22×), Blisterwort (0.6×), Blue Mountain Flower, Butterfly Wing, Charred Skeever Hide, Daedra Heart, Eye of Sabre Cat, Flame StalkCC (1.2×,1.22×), Heart of OrderCC (1.2×,1.22×), Imp Stool (0.6×), MarshmerrowCC (1.2×,1.22×), Rock Warbler Egg, SaltriceCC (1.2×,1.22×), SpadefishCC, Void EssenceCC (1.2×,1.22×), Wheat |
|  Fortify Light Armor | Aster Bloom CoreCC (2×,2.14×), Beehive Husk, Hawk Feathers, Honeycomb, Luna Moth Wing, Skeever Tail, Withering MoonCC (1.5×,1.56×) |
|  Resist Shock | Glow Dust, Glowing Mushroom, Hawk Beak, Kagouti HideCC (1.33×,1.36×), Pearl, Pine Thrush Egg, Snowberries |
|  Weakness to Frost | Abecean Longfin, ChokeweedCC (1.33×,1.36×), Elves Ear, Fire Salts, Gold KanetCC (1.33×,1.36×), Ice Wraith Teeth, White Cap |