Rot Scale
01

00306D

Added by
Special Edition Patch 1.5.97
20
0.1
Alchemy Effects
1st
 Slow (3×,0.26×)
2nd
 Lingering Damage Health (3×,3.34×)
3rd
 Fear (0.16×,0.14×)
4th
 Paralysis
Sources
Plant
Rot Scale
# Plants
10(CC)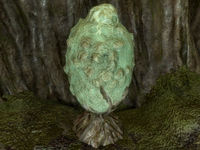 Rot Scale is an unobtainable ingredient added to Update.esm by Special Edition Patch 1.5.97. This means that the ingredient can be added to your inventory via console commands, and the plant is available to be used in mods.
With Saints & Seducers, it can be obtained from Rot Scale plants in Solitude SewersCC.
Combinations
Edit
2 Effects
Edit
| Desired Effect | Combine with: |
| --- | --- |
|  Slow | Bungler's BaneCC (2×,2.14×), Burnt Spriggan WoodDB, Deathbell, Kresh FiberCC (2×,2.14×), Large Antlers (6×, 1.75×), River Betty, Salt Pile, Trama RootDB, Worm's Head CapCC (2×,2.14×) |
|  Lingering Damage Health | ChokeberryCC (2×,2.14), Mora Tapinella, Orange Dartwing, RoobrushCC (2×,2.14), ScathecrawDB, Slaughterfish Egg, Slaughterfish Scales |
|  Fear | Blue Dartwing, Bog BeaconCC (2×,2.14×), Cyrodilic Spadetail, Daedra Heart, Namira's Rot, Powdered Mammoth Tusk, Sload SoapCC (2×,2.14×) |
|  Paralysis | Aster Bloom CoreCC (1.5×,1.56×), Briar Heart, Canis Root, Corkbulb RootCC (1.5×,1.56×), Daedra SilkCC (1.5×,1.56×), Daedra VeninCC (1.5×,1.56×), Fire PetalCC (1.5×,1.56×), Gold KanetCC (1.5×,1.56×), Hackle-Lo LeafCC (1.5×,1.56×), Human Flesh, Purple Butterfly WingCC, Scrib JerkyCC (1.5×,1.56×), Swamp Fungal Pod |