Corkbulb Root


FE

xxx

809

Added by
Rare Curios
30
0.1
Alchemy Effects
1st
 Paralysis (2×,2.14×)
2nd
 Restore Health (1.2×,1.22×)
3rd
 Resist Shock (1.33×,1.36×)
4th
 Fortify Marksman (1.25×,1.27×)
Corkbulb Root is an ingredient added by the Rare Curios Creation. It can be purchased from Khajiit caravans.
This ingredient can also be used to fashion corkbulb arrows and bolts.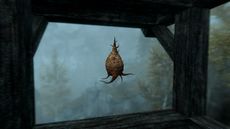 Combinations
Edit
3 Effects
Edit
2 Effects
Edit
| Desired Effect | Combine with: |
| --- | --- |
|  Paralysis | Aster Bloom CoreCC (1.5×,1.56×), Briar Heart, Daedra SilkCC (1.5×,1.56×), Daedra VeninCC (1.5×,1.56×), Fire PetalCC (1.5×,1.56×), GleamblossomDG, Gold KanetCC (1.5×,1.56×), Hackle-Lo LeafCC (1.5×,1.56×), Human Flesh, Imp Stool, Netch JellyDB, Purple Butterfly WingCC, Rot ScaleCC, Scrib JerkyCC (1.5×,1.56×), Thorn HookCC |
|  Restore Health | AmbrosiaCC (1.2×,1.22×), Blisterwort (0.6×,0.57×), Blue Mountain Flower, Butterfly Wing, Charred Skeever Hide, Daedra Heart, Eye of Sabre Cat, Felsaad Tern FeathersDB, Flame StalkCC (1.2×,1.22×), Heart of OrderCC (1.2×,1.22×), MarshmerrowCC, Rock Warbler Egg, SaltriceCC (1.2×, SpadefishCC, 1.22×), Void EssenceCC (1.2×,1.22×), Wheat |
|  Resist Shock | Glow Dust, Glowing Mushroom, Hawk Beak, Kagouti HideCC (1.33×,1.36×), Pearl, Pine Thrush Egg, Snowberries |
|  Fortify Marksman | Elves Ear, Juniper Berries, Spider Egg |