Ice Wraith Teeth
00

03ad6a

30
0.25
Alchemy Effects
1st
 Weakness to Frost
2nd
 Fortify Heavy Armor
3rd
 Invisibility
4th
 Weakness to Fire
Sources
# Samples
40
Creature
Ice Wraith
Merchant Avail.
Rare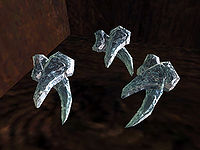 Ice Wraith Teeth are dropped by ice wraiths.
Combinations
Edit
2 Effects
Edit
| Desired Effect | Combine with: |
| --- | --- |
|  Weakness to Frost | Abecean Longfin, Ash Hopper JellyDB, Elves Ear, Fire Salts |
|  Fortify Heavy Armor | Sabre Cat Tooth, Slaughterfish Scales, Thistle Branch |
|  Invisibility | Ash Creep ClusterDB, Chaurus Eggs, Crimson Nirnroot, Luna Moth Wing, Nirnroot, Vampire Dust |
|  Weakness to Fire | Bleeding Crown, Burnt Spriggan WoodDB, Frost Salts, Juniper Berries, Moon Sugar, Powdered Mammoth Tusk |
Ingredients
Edit
40 guaranteed samples can be found in 20 different locations. Locations with multiple samples are:
It is categorized as a rare ingredient, meaning that most apothecary merchants have a 21% chance of carrying 1-4 samples. In addition, it may be randomly found only in rare-type apothecary's satchels.
Creatures
Edit
One sample of ice wraith teeth is always dropped by an ice wraith.
Related Quests
Edit
Last modified on 30 August 2018, at 16:14