Berit's Ashes
00

0705b7

5
0.2
Alchemy Effects
1st
 Damage Stamina
2nd
 Resist Fire
3rd
 Fortify Conjuration
4th
 Ravage Stamina
Sources
# Samples
1
Merchant Avail.
None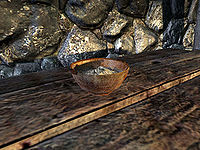 Berit's Ashes is a unique version of bone meal that shares all of the same alchemical properties as regular bone meal. It can be combined with regular bone meal to make a potion with four effects. The ashes are the remains of a man named Berit, who lived in Falkreath and was a friend of Thadgeir.
Combinations
Edit
Berit's Ashes share the same combinations as bone meal. In terms of combinations of two ingredients, Berit's Ashes can be combined with 41 other ingredients.
4 Effects
Edit
2 Effects
Edit
Desired Effect
Combine with:

 

 Damage Stamina
Blisterwort, Bog BeaconCC (1.33×

 

,1.36×

 

), Canis Root, ComberryCC (1.33×

 

,1.36×

 

), Crimson Nirnroot (3.0×

 

), Cyrodilic Spadetail, Giant's Toe, Jarrin Root, MarshmerrowCC (1.33×

 

,1.36×

 

), Nirnroot, Rock Warbler Egg, Spider Egg

 

 Resist Fire
Ashen Grass PodDB (1.33×

 

,1.36×

 

), Bliss Bug ThoraxCC, Dragon's Tongue, Elves Ear, Fire PetalCC (1.33×

 

,1.36×

 

), Fire Salts, Fly Amanita, Gnarl BarkCC (1.33×

 

,1.36×

 

), Mudcrab Chitin, Snowberries

 

 Fortify Conjuration
Blue Mountain Flower, Congealed PutrescenceCC (1.2×

 

,1.22×

 

), Frost Salts, Hagraven Feathers, Lavender

 

 Ravage Stamina
Bee, Bungler's BaneCC (1.5×

 

,3.34×

 

), Deathbell (2.1×

 

), Honeycomb, Hypha FaciaCC (1.5×

 

,3.34×

 

), ScathecrawDB, Thistle Branch
Ingredients
Edit
2 guaranteed samples can be found in the following locations:
Related Quests
Edit
The ashes are presumably supposed to be unique. However, the respawning samples in Dengeir's House and Castle Volkihar make it possible to obtain more than one.

 

This issue has been addressed by version 1.1 of the Unofficial Dawnguard Patch; the ashes in Valerica's study have been replaced by standard bone meal.