Chaurus Hunter Antennae


xx

0183b7

Added by
Dawnguard
2
0.1
Alchemy Effects
1st
 Damage Stamina
2nd
 Fortify Conjuration
3rd
 Damage Magicka Regen
4th
 Fortify Enchanting
Sources
# Samples
0
Creature
Chaurus Hunter
Merchant Avail.
None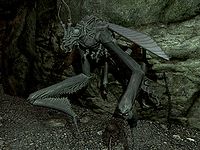 Chaurus Hunter Antennae are an alchemy ingredient dropped by chaurus hunters and chaurus hunter fledglings, along with 1 chaurus chitin, a 25% chance of 1 chaurus egg sample, and minor loot. There are no guaranteed samples of antennae, however they can be looted at almost any location featuring the Falmer and their chaurus pets.
Combinations
Edit
In terms of combinations of two ingredients, Chaurus Hunter Antennae can be combined with 41 other ingredients.
4 Effects
Edit
2 Effects
Edit
Desired Effect
Combine with:

 

 Damage Stamina
Ash Creep ClusterDB, Blisterwort, Bog BeaconCC (1.33×

 

,1.36×

 

), Canis Root, ComberryCC (1.33×

 

,1.36×

 

), Crimson Nirnroot (3.0×

 

), Cyrodilic Spadetail, Giant's Toe, Jarrin Root, MarshmerrowCC (1.33×

 

,1.36×

 

), Nirnroot, Rock Warbler Egg

 

 Fortify Conjuration
Congealed PutrescenceCC (1.2×

 

,1.22×

 

), Frost Salts, Hagraven Feathers, Lavender, Sload SoapCC (1.2×

 

,1.22×

 

)

 

 Damage Magicka Regen
Bear Claws, Burnt Spriggan WoodDB, Chicken's Egg, Daedroth TeethCC (2×

 

,2.14×

 

), Glow Dust, Hanging Moss, Hawk's EggHF, Human Heart, Mort FleshCC, Minotaur HornCC (2×

 

,2.14×

 

), Nightshade, Scalon FinCC (2×

 

,2.14×

 

)

 

 Fortify Enchanting
Dreugh WaxCC (2.0×

 

), Hagraven Claw, Snowberries, Spawn AshDB, Stoneflower PetalsCC (2.0×

 

)
All four alchemical properties are shared with blue butterfly wings and ancestor moth wings. Combining chaurus hunter antennae with either of the two ingredients will therefore result in all four effects being discovered at once.