Pine Thrush Egg
00

023d6f

2
0.5
Alchemy Effects
1st
 Restore Stamina
2nd
 Fortify Lockpicking
3rd
 Weakness to Poison
4th
 Resist Shock
Sources
# Samples
107
Plant
Birds' Nest
# Plants
136
Merchant Avail.
Common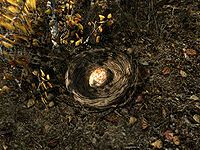 Pine Thrush Eggs can be harvested from birds' nests that are found in forested regions, notably throughout The Rift. Rock warbler nests (yielding rock warbler eggs) are named identically to pine thrush ones ("Birds' Nest"), but are more common in rocky regions.
Combinations
Edit
In terms of combinations of two ingredients, Pine Thrush Eggs can be combined with 46 other ingredients.
2 Effects
Edit
| Desired Effect | Combine with: |
| --- | --- |
|  Restore Stamina | Bear Claws (0.8×,0.78×), Bee, Charred Skeever Hide, ChokeweedCC (1.2×,1.22×), Eye of Sabre Cat, Hackle-Lo LeafCC (1.2×,1.22×), Histcarp, Honeycomb, Large Antlers, Mudcrab Chitin, Netch JellyDB (2.0×), Orange Dartwing, Powdered Mammoth Tusk, Purple Mountain Flower, Salmon RoeHF (0.4×, 0.36×), SaltriceCC (1.2×,1.22×), Scrib JerkyCC (1.2×,1.22×), Silverside Perch, Small Pearl, Torchbug Thorax, Wisp Wrappings |
|  Fortify Lockpicking | Ashen Grass PodDB, Falmer Ear, Namira's Rot, SpadefishCC, Spider Egg, Worm's Head CapCC (1.5×,1.56×) |
|  Weakness to Poison | Abecean Longfin, Bleeding Crown, Chaurus Eggs, ChokeberryCC (1.5×,1.56×), Deathbell, Giant Lichen, Hypha FaciaCC (1.5×,1.56×), Small Antlers, Wisp Stalk CapsCC (1.5×,1.56×) |
|  Resist Shock | Ash Hopper JellyDB, Blue Dartwing, Corkbulb RootCC (1.33×,1.36×), Glow Dust, Glowing Mushroom, Kagouti HideCC (1.33×,1.36×), Snowberries, Swamp Fungal Pod |
Ingredients
Edit
107 guaranteed samples can be found in 44 different locations. Locations with the greatest numbers are:
It is categorized as a common ingredient, meaning that all apothecary merchants have a 36% chance of carrying 1-5 samples. In addition, it may be randomly found in some barrels and in apothecary's satchels.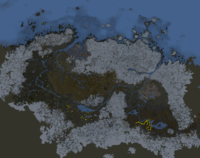 136 birds' nests containing pine thrush eggs can be found in 40 different locations. Locations with the greatest numbers are:
Pine thrush eggs are also categorized as food, meaning they can be sold to innkeepers as well as apothecary merchants.