Troll
(

lore page

)
Location
Bangkorai, Coldharbour, Craglorn, Cyrodiil, Deshaan, Eastmarch, Grahtwood, Malabal Tor, Reaper's March, The Rift, Rivenspire, Wrothgar
Species
Troll
Health
108669
66,900 rounded (Fharun Prison)
31364 (Watcher's Hold)
Difficulty
Reaction
Hostile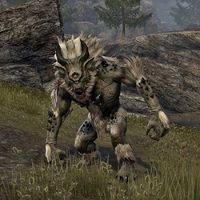 Trolls are large monsters that can be found all across Tamriel. They are difficult opponents with a level of armor and constant health regeneration, but they are weak to fire.
Skills and Abilities
Edit
As they are considered elite enemies, trolls are immune to all forms of crowd control effects.
Boulder Toss

Rock Toss

Slap

A basic melee attack that does moderate physical damage.

Tremor

The troll pounds the ground, doing moderate physical damage over time as indicated by a red circle.

Swinging Cleave

The troll swings both arms, doing moderate physical damage to all enemies in front of it as indicated by a red cone.

Consuming Omen (Rockthrower Variant)
Known Locations
Edit
Unique Trolls
Edit
Variations
Edit