When precious metals were discovered in Lost Knife Cave, the Windhelm Consortium Trading Company established the Lost Knife mining camp and secured mining rights to the area. The mine turned a profit in record time and continues to supply ore to all of Eastmarch.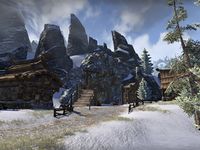 Lost Knife Cave is a mine in southwestern Eastmarch, west of Fort Amol.
Related Quests
Edit
Lost Knife Cave Objective: Help free the Lost Knife Cave mine from Fildgor's troops.
Alchemical Analysis: Deliver a mysterious metal ore to an alchemist.
Do Kill the Messenger: Intercept a Stormfist courier taking a message to the Orcthane.