Worm's Head Cap


FE

xxx

825

Added by
Rare Curios
30
0.2
Alchemy Effects
1st
 Fortify Lockpicking (1.5×,1.56×)
2nd
 Night Eye
3rd
 Fortify Carry Weight (1.25×,1.27×)
4th
 Slow (2×,2.14×)
Worm's Head Cap is an ingredient added by the Rare Curios Creation. It can be purchased from Khajiit caravans. They can occasionally be found in hollow stumps in the Solitude Sewers with the Saints & Seducers Creation installed.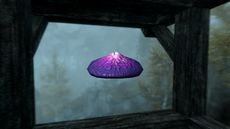 Combinations
Edit
2 Effects
Edit
| Desired Effect | Combine with: |
| --- | --- |
|  Fortify Lockpicking | Ashen Grass PodDB, Falmer Ear, Namira's Rot, Pine Thrush Egg, SpadefishCC, Spider Egg |
|  Night Eye | Blister Pod CapCC, Daedra SilkCC, Watcher's EyeCC |
|  Fortify Carry Weight | Coda FlowerCC (1.25×,1.27×), Creep Cluster, Giant's Toe, Hawk Beak, Juvenile MudcrabCC, MarshmerrowCC (1.25×,1.27×), Netch JellyDB, Scaly Pholiota, Steel-Blue EntolomaCC, Wisp Wrappings |
|  Slow | Bungler's BaneCC (2×,2.14×), Burnt Spriggan WoodDB, Deathbell, Elytra IchorCC (2×,2.14×), Green Butterfly WingCC (6×,0.57×), Kresh FiberCC, Large Antlers, Rot ScaleCC (3×,0.26×), Salt Pile |