Screaming Maw
01

00306E

Added by
Special Edition Patch 1.5.97
20
0.1
Alchemy Effects
1st
 Regenerate Magicka (4×,0.2×,0.78×)
2nd
 Fortify Alteration (1.25×1.27×)
3rd
 Invisibility (0.25×,0.22×)
4th
 Regenerate Health (4×,0.03×,0.11×)
Sources
Plant
Screaming Maw
# Plants
10(CC)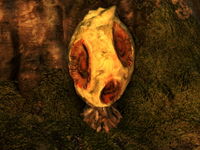 Screaming Maw is an unobtainable ingredient added to Update.esm by Special Edition Patch 1.5.97. This means that the ingredient can be added to your inventory via console commands, and the plant is available to be used in mods.
With Saints & Seducers, it can be obtained from Screaming Maw plants in Solitude SewersCC.
Combinations
Edit
2 Effects
Edit
Desired Effect
Combine with:
 Invisibility
 Regenerate Health
Luna Moth Wing, Vampire Dust
 Regenerate Health
 Regenerate Magicka
Garlic, Minotaur HornCC (1.2×,1.22×) (1.2×,1.22×), Purple Butterfly WingCC, Thorn HookCC (0.6×,0.6×,0.32×) (0.6×,0.6×,0.32×)
| Desired Effect | Combine with: |
| --- | --- |
|  Regenerate Magicka | Dwarven Oil, Fire Salts, Jazbay Grapes, LichorCC (1.2×,1.22×), Moon Sugar, Salmon RoeHF, Salt Pile, Scrib JellyCC (1.2×,1.22×), Taproot |
|  Fortify Alteration | Blind Watcher's EyeCC (1.25×,1.27×), Burnt Spriggan WoodDB, Grass Pod, River Betty, Sload SoapCC (1.25×,1.27×), Spriggan Sap, Wild Grass PodCC |
|  Invisibility | Ash Creep ClusterDB, Bittergreen PetalsCC (1.5×,1.56×), Blister Pod CapCC (1.5×,1.56×), Chaurus Eggs, Crimson Nirnroot, Daedra SilkCC (1.5×,1.56×), Elytra IchorCC (1.5×,1.56×), Flame StalkCC (1.5×,1.56×), Green Butterfly WingCC, Ice Wraith Teeth, Nirnroot, Redwort FlowerCC (1.5×,1.56×) |
|  Regenerate Health | Alocasia FruitCC (1.2×,1.22×), AmbrosiaCC (1.2×,1.22×), Emperor Parasol MossDB, GleamblossomDG, Gnarl BarkCC (1.2×,1.22×), Hydnum Azure Giant SporeCC (1.2×,1.22×), Juniper Berries, Namira's Rot, Nordic Barnacle, Ogre's TeethCC (1.2×,1.22×), Void EssenceCC (1.2×,1.22×) |