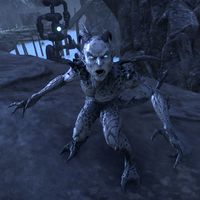 Banekin are small humanoid Daedra that often attack in groups. They use shock magic in combat.
Skills and Abilities
Edit
As they are considered Daedric creatures, banekin are especially vulnerable to Fighters Guild abilities.
Entropic Touch

A basic melee attack that does minor shock damage.

Dire Wound

A charged melee attack that does moderate shock damage. This spell can be interrupted to set the enemy off balance.

Envelop

The enemy summons a ball of lightning above itself. This attack does moderate shock damage over time to all players near it as indicated by a red circle. This attack can be interrupted to set the enemy off balance.
Quests Involving Banekin
Edit
Locations
Edit
Banekin can be found in the following locations:
Deprecated:
Unique Banekin
Edit
Following the completion of Castle of the Worm, a Banekin will appear.
Banekin: "You! Tharn wants to speak to you! Go to the Daggerfall/Vulkhel Guard/Davon's Watch Mages Guild! Quick quick!"
Achievements
Edit