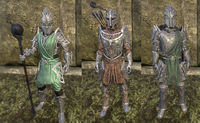 The Apostle Style is a crafting skill available with the Clockwork City DLC by reading chapters of the

Crafting Motif 56: Apostle book. These chapters (or rarely the entire book) can be found by completing Repeatable Quests from Novice Holli, the Clockwork Facilitator, or Razgurug in the Brass Fortress.
Items crafted in this style will resemble the armor and weaponry of Clockwork City's Clockwork Apostles. Like all styles, it is purely cosmetic. Items will have the same stats regardless of the style you use.
Type
Items
Light Armor
Hat
Epaulets
Jerkin
Robe
Gloves
Sash
Breeches
Shoes
Medium Armor
Helmet
Arm Cops
Jack
Bracers
Belt
Guards
Boots
Heavy Armor
Helm
Pauldrons
Cuirass
Gauntlets
Girdle
Greaves
Sabatons
Weapons and Shields
Edit
Weapons and Shields
Edit