This page lists all limited-time events which have taken place in The Elder Scrolls Online. Events can be special occasions that only occur once, or can be recurring every year. Recurring events include:
The Crown Store usually has special offers coinciding with these events, such as discounts on relevant DLCs and cosmetics, and can include the temporary return of limited availability items such as DLC Collector's Editions, Player Houses and Crown Crates. Sometimes the Crown Store also has additional sales corresponding to various real-world cultural events not otherwise celebrated in-game, such as Valentine's Day ("Heart's Day"), St Patrick's Day, Friday the 13th ("Fatal Fredas/Serpent 13"), a combined dye sale for Canada Day, US Independence Day & Bastille Day, and the annual Black Friday ("Black Fredas") sale.
Since late 2018, most game events have also provided Event Tickets to participants, used to purchase special items from the Impresario.
Four of the recurring events also have their own Achievements, some of which unlock special furnishings for purchase.
Current Event
Edit
Future Events
Edit
These are the known events planned for 2021:
Year One Celebration (Between August and November)
Midyear Mayhem 2021 (June)
Edit
June 24 — July 6 2021
The second Midyear Mayhem event of the year, this run introduces the Alliance Banner-Bearer Style, a weapons style consisting of alliances-themed staves and shields. They are purchasable from the Impresario or can be earnt by collecting 10 Alliance Banner Emblems from the Pelinal's Midyear Boon Boxes and combining them with the right license from Predicant Maera. The Alliance Banner Emblems are guaranteed to appear in the first Pelinal's Midyear Boon Boxes you open per a day.
The Impresario also introduces the third and final fragment needed for the Deadlands Firewalker Personality, along with the other necessary fragments. She has also brought back the bound Ebonsteel Knight Style pages and Breton Terrier pets.
You can earn a total of 3 Event Tickets per day during this event. The first 2 come from completing any daily quest that focuses on Cyrodiil or Battlegrounds. You may earn an additional ticket by completing an Imperial City District daily quest.
Champions Reforged
Edit
June 1 — 15 2021
The Champions Reforged event went live alongside the Blackwood release on PC/Mac. Free Champion Point respecifications were enabled for the duration.
Explorer's Celebration 2021
Edit
May 13 — 20 2021
The Explorer's Celebration returns for a second time in May 2021. During the event there is double XP gains from every source, increased yields from harvest nodes and double gold rewards from all monster kills, quest rewards and similar. This mini-event has no achievements, collectibles or quests associated with it.
ESO Play for Free Event
Edit
March 31 — April 13, 2021
Running concurrent to the Anniversary Jubilee, there will be a Free Play Event, where anyone can download the Elder Scrolls Online base game with Morrowind chapter and play for free. To get started, visit the Official Free Play and select your platform. Also during this time, The Elder Scrolls Online Standard Edition and Greymoor Chapter will be discounted.
Alongside this, cks]]Crown Packs 

will be on sale, any new accounts made during this time period will get 00500500 

.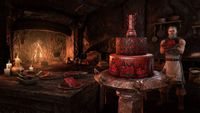 April 1 — April 15, 2021
The Seven Year Anniversary event will run from April 1 to April 15, 2021. The event was initially meant to run until April 13, but was extended on all platforms due to maintenance downtime on the PlayStation servers on April 5, 2021.
Like previous years, you can complete the event's Ache For Cake quest to obtain this year's Jubilee Cake 2021 memento. Using the memento during the event will give you two-hour 100% XP boost.
Completing daily quests will gift you a Anniversary Jubilee Gift Box, which contain the same loot as last year, with some additions. Notably Imperial Champion weapon style pages will be introduced during the event.
You have the chance of earning a max of 39 Event Tickets during the Event run. Three tickets can be earned a day by using the Jubilee Cake 2021 memento the first time that day. This event, the Impresario will introduce the first two fragments for the Deadlands Firewalker personality: the Vial of Simmering Daedric Brew and Vial of Bubbling Daedric Brew along with the 2021 replica cake and bound pages for the Imperial Champion Style.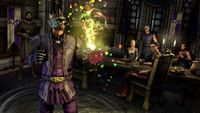 March 25 — April 1, 2021
The Jester's Festival event is live from Thursday, March 25 at 2PM GMT until Thursday, April 1 at 3PM BST. This year three brand-new daily quests are added alongside the original three event quests:
Jester's Festival Reward Box return as daily quest reward and can contain valuables, consumables, recipes, furnishings, Revelry Pies, and fragments of the new Playful Prankster's Surprise Box memento.
The first time you complete a daily quest each day, you'll receive a Stupendous Reward Box instead of the regular one. This special box can include the same items as detailed above, but it also has a chance to contain these items: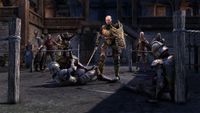 This event begins with the launch of Update 29 on the live servers. This is Monday, March 8, 2021 for PC/Mac, and Tuesday, March 16, 2021 for Xbox One and PlayStation4. It will run for two weeks, and will allow you unlimited free respecs from Rededication Shrines for the following:
Attributes (Health/Stamina/Magicka)
Skills (and Morphs)
Champion Points (from the Champion Point system menu)
When you first log in after Update 29 goes live, all Skills and Champion Points will be automatically reset. Though the changes to skills in Update 29 only affect the Champion System, this event will allow you to test builds, reset/respec as many characters as you'd like for free for two weeks.
This is not a full in-game event, as there will be no event tickets distributed—just free re-specializations. That's two weeks to experiment and test your builds at no cost.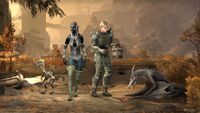 February 25 — March 9, 2021
The Tribunal Celebration Event was a combination of the Clockwork Celebration Event and the Morrowind Celebration Event. It introduced the Doctrine Ordinator Style, alongside a new skin, pet, and memento. The Doctrine Ordinator Arms Pack, Dwarven Crown Crate, and Music Box, Mother Morrowind's Sacred Lullaby were also available from the Crown Store during this time.
You could earn up to 00000022 

a day: one each for completing a daily quest in Vvardenfell and Clockwork City. The first daily quest you completed also rewarded a Glorious Tribunal Coffer.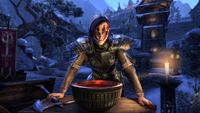 January 28 — February 9, 2021
In addition to the rewards from previous Midyear Mayhem, the new Ebonsteel Knight armor style pages have been introduced. Pages have a chance to drop from bosses in the Imperial City, but are also available from the Impresario for 5 tickets each. The corresponding weapon styles are only available from the Crown Store by purchasing the limited time Ebonsteel Knight Arms Pack during this event.
You can earn a total of 3 Event Tickets per day during this event. The first 2 come from completing any daily quest that focuses on Cyrodiil or Battlegrounds. You may earn an additional ticket by completing an Imperial City District daily quest.
Elder Scrolls Online Global Reveal Event
Edit
January 26, 2021
The Elder Scrolls Online Team revealed their plans for major updates in 2021 on their Twitch channel. This year's story arc is the Gates of Oblivion.