This page is currently being redesigned for the Lore Places Project (LPP).
The page may need work to meet the standards outlined on the project page.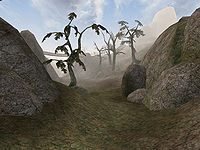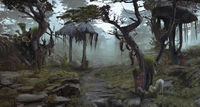 The western highlands of Vvardenfell are called the West Gash. The region is one of Vvardenfell's largest contiguous areas, stretching from just south of Balmora, the district seat of House Hlaalu, to as far north as Khuul and the shores of the Sea of Ghosts. The West Gash lies between two mountain ranges, west of the Ashlands and east of the Bitter Coast. The terrain of the West Gash is generally rocky scrubland in the south, marked by unique, natural rock bridges inland in the south and on the coast, with sparse forest in the northern area. Major settlements in the West Gash include the fishing villages Ald Velothi and Khuul, the trading village Gnisis, Balmora and Caldera. The Caldera Mining Company has been granted an Imperial monopoly to remove Raw Ebony from the rich deposits here. Caldera has the appearance and flavor of a Western Imperial town, but a Hlaalu Governor. The Imperial Legion garrisons of Fort Moonmoth and Fort Darius round out the Imperial presence.